Drag is a Haiyna Demon and a friend of Ceejay and Thomas. He is very kind and funny he is more a joker. Drag likes mating as he puts it with different raced demons. He usualy helps the gang by giving them knoweledge on demons that they may come up against. He lives in a flat in Brodstow where the manager knows he is a demon, he was freaked out at first but he got used to Drag and became one of his close friends.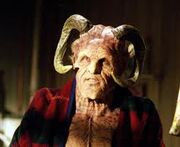 Ad blocker interference detected!
Wikia is a free-to-use site that makes money from advertising. We have a modified experience for viewers using ad blockers

Wikia is not accessible if you've made further modifications. Remove the custom ad blocker rule(s) and the page will load as expected.